Post by sgain on Feb 27, 2017 20:56:18 GMT
After checking and enjoying some of the other game masters threads I thought I'd do one of my own.
Background; the present campaign is based on En5ider's "To Slay a Dragon" campaign. We use Savage Worlds for our rules and the group has 4 to 5 players (one of my players works a lot of shifts). I'm one of those GM's who loves to go freestyle so I tend to use campaigns as ideas or backgrounds and then play the adventure as a sandbox. I like the players to choose their own paths and what they want to pursue and this tends to make the games more like an improv session than a 'leading you around by the nose' sort of thing. Not to say that the guys don't always finish things, or do some things predictably but they do tend to pick up on red herrings a lot and go off chasing them (which I really enjoy).
I like to play my games like movies or TV shows - I like to do a 'Setup' or scene idea, then have the players interact with that. Sometimes I have pre-set scenes but a lot of the time it's 'fly by the seat of your pants' where I just have a general idea of what may happen and I have mini's and set stuff ready to go. I'll show you folks how I do the setup and the parts I made and then some pictures of the actual scenes. I use lighting (home made black lights, a 55" TV set, various spot lights, LED's and such), Music (various stuff that I've picked up over the years), Sound Effects (Battlebards and Wes Otis Platemail games sounds). As well as my table. My game pictures tend to be purplish - that's from the blacklights - especially if the scene is at night or underground.
At the present time the group has just finished saving a local village from a gang of cut throat bandits. At the same time a dragon attacked a nearby village and destroyed it. As if this isn't enough the group is searching for a kidnapped girl, a lost holy relic and trying to gather enough allies to help one of them save their besieged village! Suffice to say, I have to keep a lot of notes on NPC's and what is going on.
I've been using Mini's since the 1980's in my games, I don't consider myself an artist, more of a 'production guy' who makes things presentable so they work. I got into Dwarven Forge about 3 years ago and started really enjoying using 3d terrain in my games. Then I discovered DM Scotty about 4 months ago, and now I'm hooked on making stuff.
So here's a few pieces I've thrown together for this latest chapter of my game, which is the group trying to find allies for the lifting of a siege. They've traveled for several days to what they thought was a village of Elves. They discover that the village is actually more of a human place filled with loggers and woodsmen who make a living culling the nearby Greyfell Forest. The locals have an agreement with the Gnomes and Elves who live in the forest to only harvest new growth trees or those that are diseased. Lately they mistakenly cut several 'Heartwood' trees; old growth that showed signs of disease until they began scaling (trimming) them - then they discovered that the trees were not dying, but instead had a strange moss-fungus growth on them. The party arrived in the village and caused a panic - the locals thought that the Elves had sent Rangers to punish them for cutting the wrong trees. To their relief the party was more interested in the fungus which seemed to have an odd effect on some of the loggers - they'd wandered off the night before into the forest.
Setup
Ancient forest - Barrow Mound - Tree Ent - infected humanoids
Note; in my Forest Pictures thread I have photos of the game session with the parts 'in action' this time I'm only going to post the scenery and mini's for this scene.
Here's some of my trees with a party member (Elf) for scale.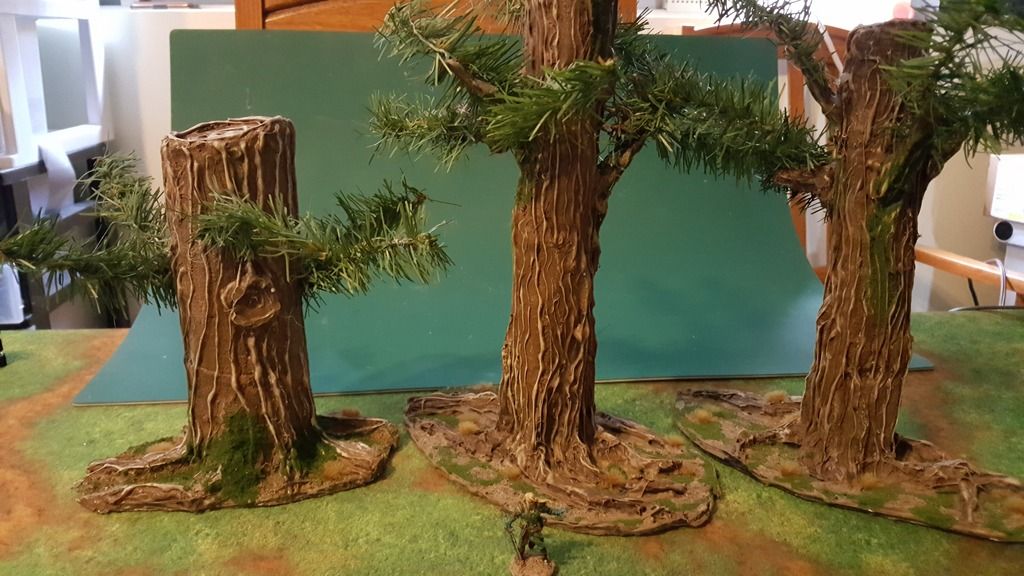 Diseased and dead trees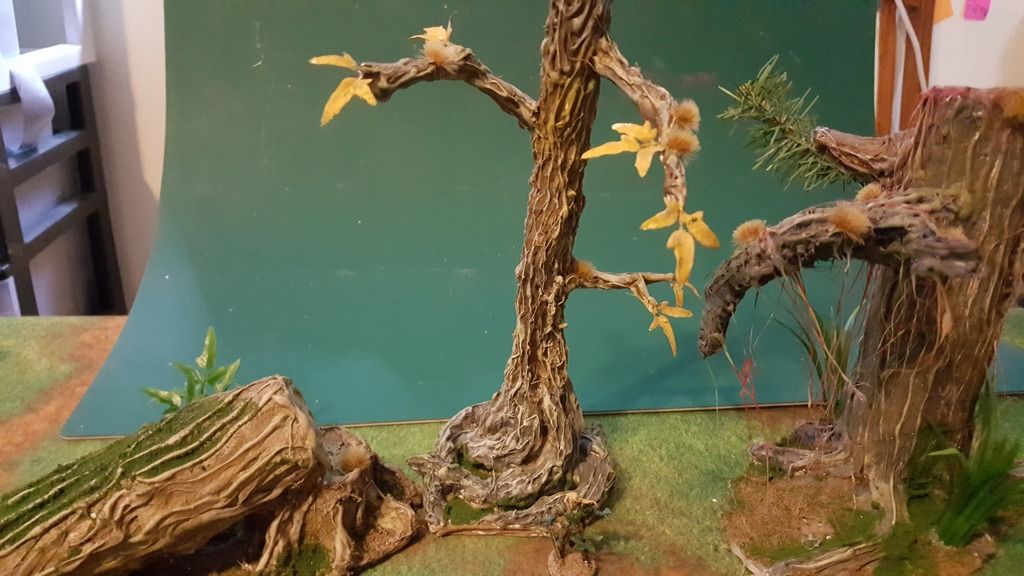 The "Infected Ent" the main challenge in this scene - a wood guardian that had been infected by the strange fungus spores and now guarded the entrance to the Barrow Mound. This was the first Mini I've ever made and I had a lot of fun with him. I even went a bit overboard and put in LED eyes for him.
Back view of the Ent;
The infected Ent 'alive' with LED turned on.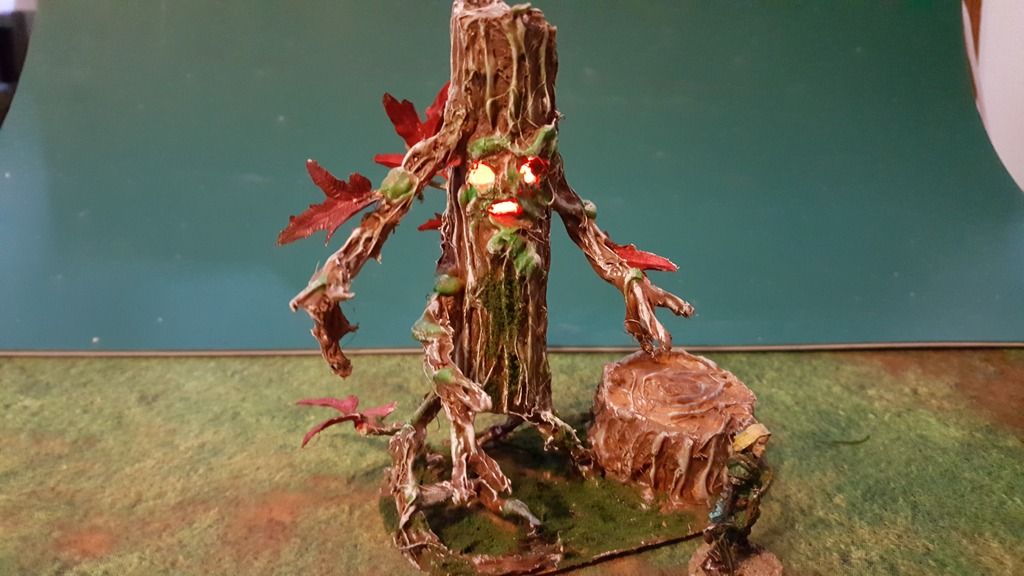 Two shots of the ancient Barrow mound.
Top view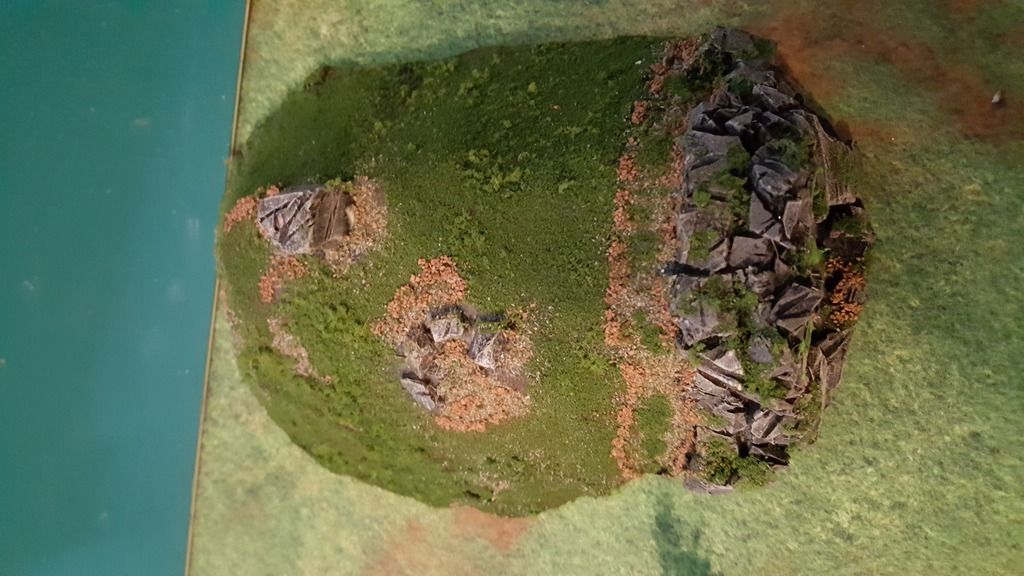 And this is a picture of the whole scene with all the elements in it. It's taken from the players side of things and you can see that one of them is using a torch (the bright LED in the right side of the shot). The other players are behind cover or engaging the Ent. The barrow mound is off to the left rear and the Ent center stage.
Next; inside the Barrow Mound and the 'Mine'.