Post by tauster on Nov 10, 2013 21:29:18 GMT
This is a copy of the
original thread in the old message board
.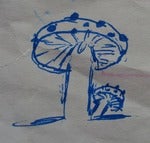 Scottie's fire spellmarker
). I intended to use the crackle glaze as some kind of 'hardening lava' effect, but never got the time to actually experiment with it, so the pot remained closed until yesterday.
I figured it could make a nice rough &scaly hide of a beholder, so without any directions of use, I...
... took a hard cotton ball (3 cm diameter),
... punched some holes in there the eyestalks will ge glued on later,
... fixated them with toothpicks and
... liberally put a large-ish amount of crackle galze on it, while trying to keep the paint as smooth as possible (which was kind of hard because it draws whisps)
I also painted a small (3,8 cm diameter) cardboard disc, so I could later on experiment on it without ruining the beholder. That's how it looks right after applying the paint:
i.imgur.com/iKp72c4.jpg
This morning, I found it already dried (despite the label saying 24 hrs), and that's how it looks:
Disc:
i.imgur.com/qjqctSf.jpg
Beholder:
i.imgur.com/13kcZNG.jpg
I am rather happy with the structure - the effect is as I expected it to be. No comes the question:
How to continue?
I realized that this glaze is available in different color shades, so maybe before applying it, I should have mixed some color in. And before that, pasepainted the sphere with the color I wanted to show through the cracks...?
As an alternative, maybe I can use watered-down paint and wash it, hoping that the color goes (mainly) into the cracks, wiping the excess collor off the scales?
Any experience / advice?
The label says that this stuff works only on absorent materials like paper and cardboard, and you can see that the cardboard disc is quite bent. That's already something to remember for the next time...