Post by tauster on Nov 8, 2013 10:05:28 GMT
This is a copy of the
original thread in the old message board
.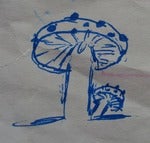 apokism's Treants thread
, but last night I realized that there are many different ways of crafting tentacles. So I figured that I'd better do a separate thread for all kinds of crafting pseudopods, as with the
mushroom discussion
.
I continued yesterday with the pseudopods, but before posting these pics, I'd better re-quote what I wrote in the Treants thread to show you how this project started:
---
Best* way of creating bark texture is, ...well... using bark:

Grab a nice rough piece of bark and use it as a stamp. This is super-easy and creates a realistic-looking texture that would probably take longer than clay needs to dry (which can be several days) if you try to model it with a tool. At least with my modeling skills...

* 'Best' in the sense of 'fastest and most realistic'. I know there is no one right/best way...


I started with pseudopods yesterday (see Scottie's turorial), so I took a few shots to show how bark texture can look. Of course it can look very different, depending on the type of bark you use as a stamp. I used a willow bark that I had already painted for use as a piece of rock in my games, but I was too lazy to rummage through the box with the dried bark pieces. I can recommend willow bark in general - it has a great texture for stamps and with black basepaint and some drybrushing looks very much like rock. anyways, here's the pseudopod WIP:


i.imgur.com/dtQxlpj.jpg
i.imgur.com/uKKWotq.jpg
i.imgur.com/uyjB2Pd.jpg
i.imgur.com/iYknuX6.jpg

---
Originally, I wanted to sculpt the upper parts of the things* out of lightweight sculpting mass (LSM), but it turned out that a) it didn't want to adhere to the clay and b) wasn't as easy to work with as before (I sculpted some little hills out of this stuff before that were done in seconds rather than minutes). I tried to form a roll with the LSM, but this time it sticked to my hands rather than itself or the clay, so I quickly gave up and continued with clay.
* I'm not sure 'creature' is the right word to describe a pseudopod...
Anyways, below are the update pics:
Blurry picture with less light, but you can see the texture better:
Balance:
If you work with tentacle-like shapes, taka care to have the miniature's balance in mind. As you can see, these critters bend around, looking like waving / swinging back and forth. While this is exactly what I wanted, it's also required for balance because center of gravity has to be close enough to the mini's base to avoid tipping.
Teeth:
I didn't add teeth so far because I rather like the looks as they are at the moment, but I think once the clay dried, at least one of them will get little stones glued on...
Paint:
I'm still unsure whether to paint these up like Scottie's fleshy tentacles (see link above) or as Purple Worms. Which tells me that I should probably do some more.