Post by Zorina on Aug 31, 2016 18:21:54 GMT
Greetings, Fellow Crafters!
I've been craftng for many years, though for the last 15 years or so my crafting has been dedicated to the costuming realm. I am a member of The Rebel Legion, the premier costuming group for the "Good Guys" from Star Wars. I can sew, I build props, some of which I put simple electronics into. I also taught myself leatherworking. I particularly enjoy working on weapons. I've built many lightsabers and modified various toy and airsoft guns.
I live in Orange County California. I have a small group that I play role playing games with. Started playing D&D with them about 10 years ago. About 5 years ago we started playing a Call of Cthulu type game that took place in the 1920's. We played through several campaigns, on one Saturday a month. A had to quit playing 2 years ago to take care of my mom who had developed dementia. The group didn't want to play without their ace mechanic/fabricator, so we put the game on hold. Now that my mom has passed away, I want to get back to gaming again, but the group has decided that they wanted to go back to D&D. I think some didn't enjoy all thinking that the game we were playing entailed. We were sort of paranormal investigators, so there was a lot of investigating and analyzing.
My friend Don has always been our DM/GM. Hey really likes developing and running games. He asked me if maybe I could make some props for the game. I said hell yes! A love an excuse to buy new tools. I started making some tavern furniture. I've also been making card stock buildings from files purchased from drivethrurpg, bacause Don wanted a visual representation of the village that will be our base of operations for our new game.
I don't know if I'll be making many tiles, maybe just some building interiors, since the DM doesn't want to go gridless, and he already has lots of dungeon tiles.
He asked me if I could make a 2 inch boulder for a trap. My first thought was to use a wooden sphere, till I found out how much they cost. Then I wondered if anyone had made one using a styrofoam ball. So I went to Google to find out. That's where I discovered The DM's Craft vids (then Wyloch's and The DMG.info, and others).
I spent hours watching videos, which made my brain spin with possibilties. And after every few, I'd think, "I need more paint colors, more materials, another tool!"
Don loved the way my boulder turned out and I told him that I could make other traps too, if he wanted. His response was, "But then you'll know what they are." I said, "But I won't know how, when or where you will use them." "Good point, I'll let you know if I want more traps."
Anyway, I'm glad to be here and look forward to learning more and showing off some of my own stuff.
I doubt there are many females here (I know there is at least one more), but I'm used to that from various prop forums I used to frequent.
Let me see if I can post a couple pics of my weapon rack that I made.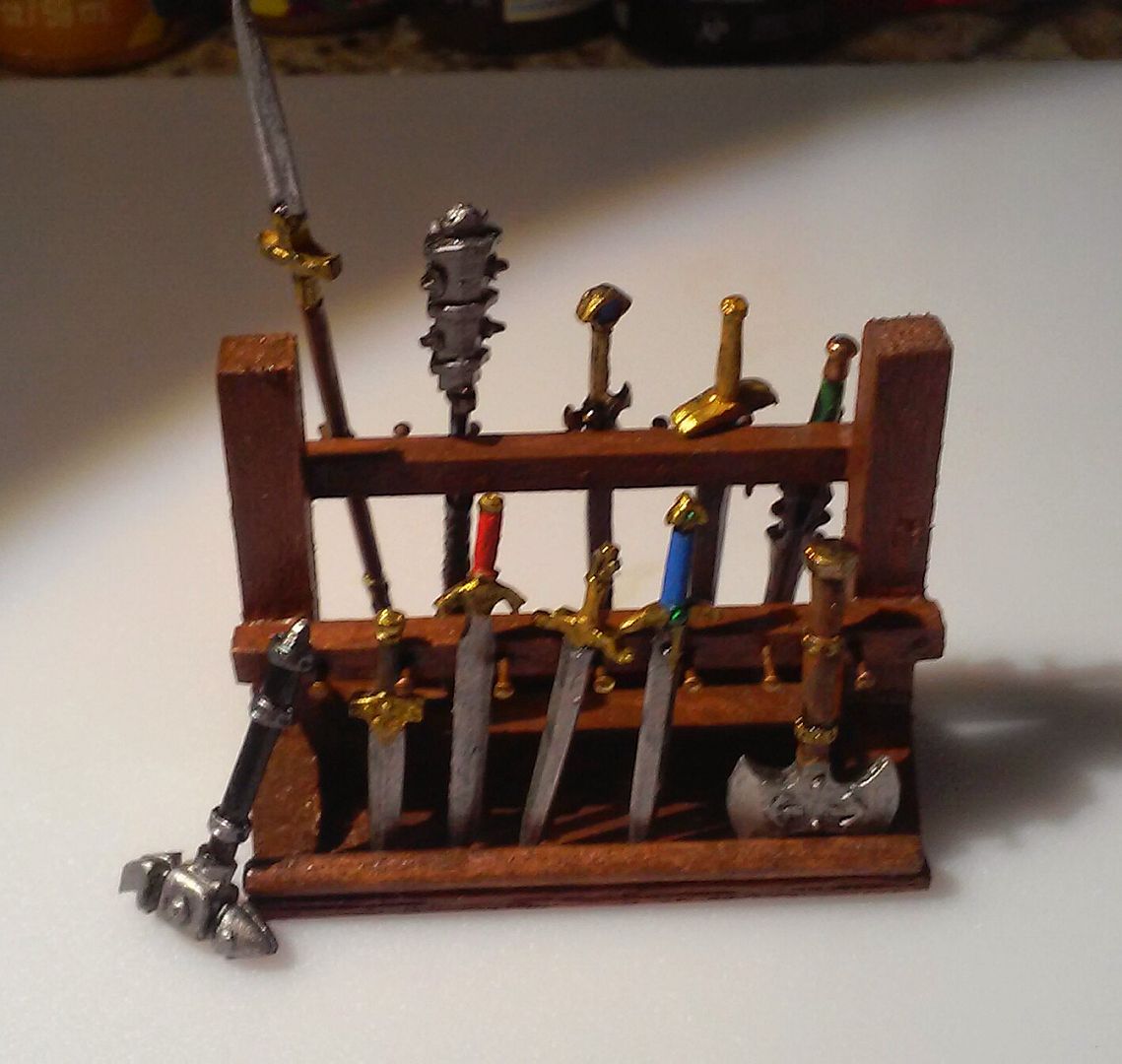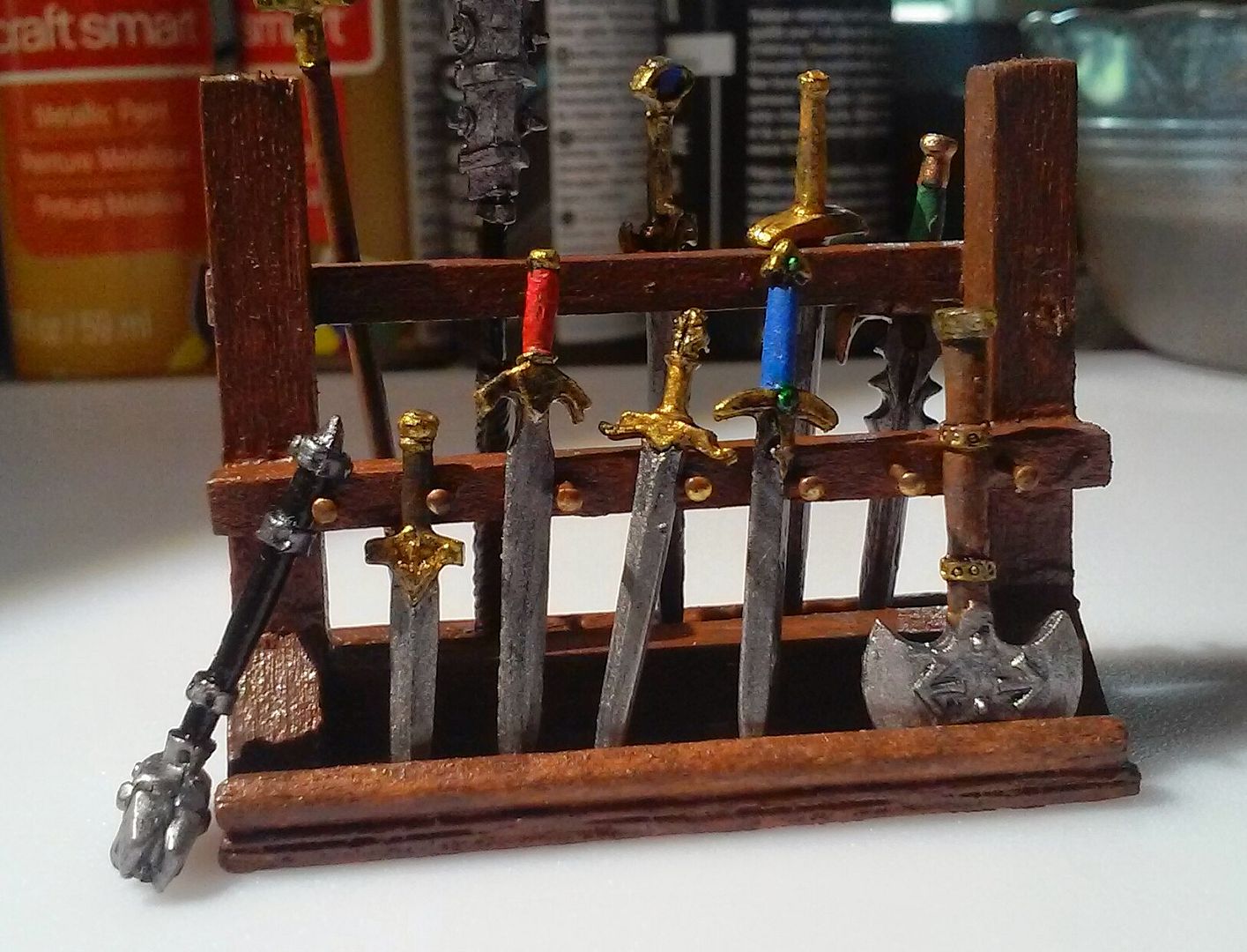 Yay, it worked.
This rack is 1 1/2 inches tall, 2 in wide and 1 in deep. Made out of wood and doll house nails to hold up the weapons.