Post by michka on Aug 20, 2015 14:38:05 GMT
Update time. This is an old Action Fleet toy that I've spiffed up a bit. It represents the kind of speeder that has been in use for way, way too long. This will be street dressing for many different locals, as well as a usable vehicle should the heroes need. Stormtrooper for scale, of course.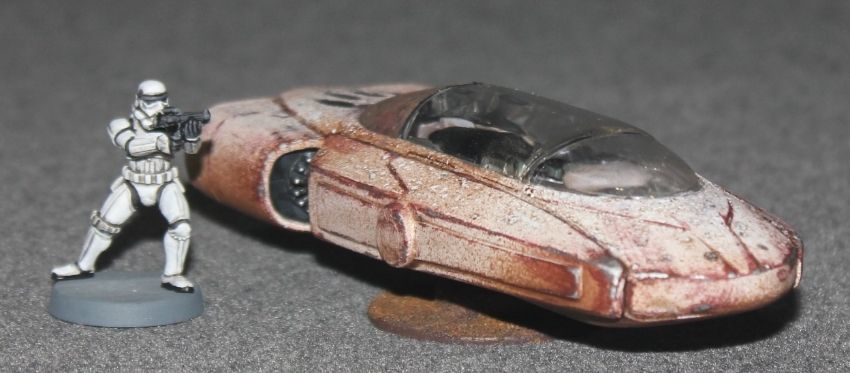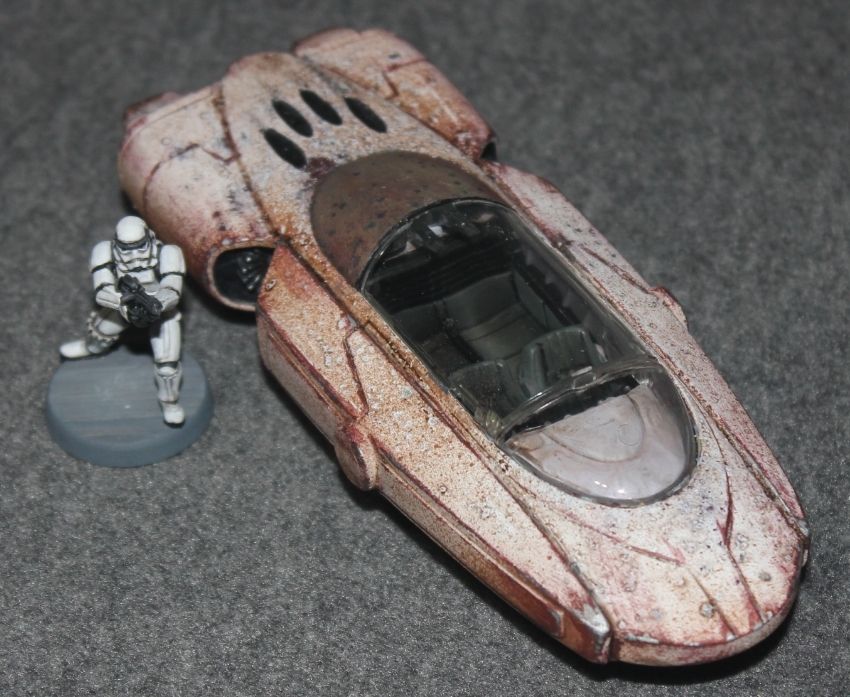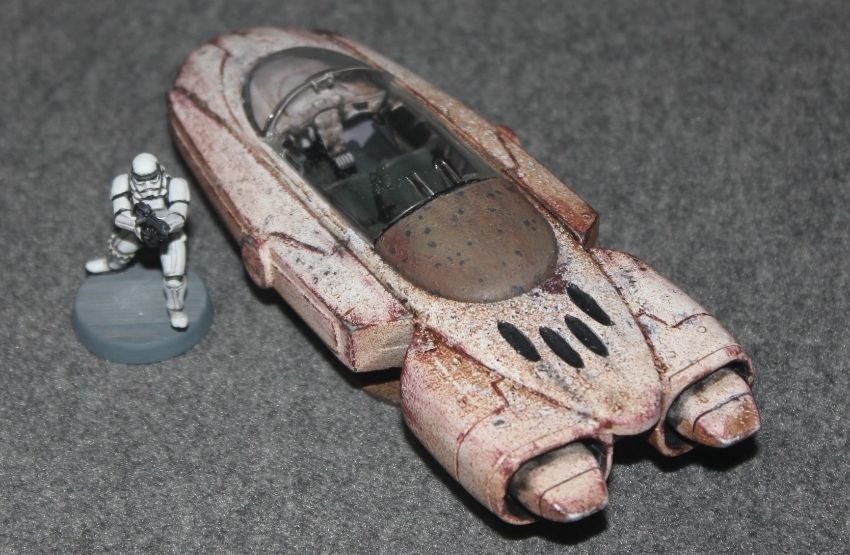 Here's a long winded explanation of how I got this result. This was a learn as you go project. I was trying out lots of different techniques on this vehicle because I have a few extras. First off I masked off the canopy with Tamiya masking tape. This stuff is fantastic! I've never tried to mask off part of a model before, but I will be doing a lot of it from now on.
I hit the model with a coat of light green paint. The green wasn't working, so I decided to try something radicle. The spots are the results of a failed Salt Technique. What's supposed to happen is salt crystals are sprinkled on a wet surface. Then you spray the model with a second overall coat. Brush the salt crystals off and the undercoat is exposed. This method probably works with an airbrush overcoat. However I used rattle can spray which stuck to the surface much more securely then was intended, leaving raised bits all over the model. Instead of revealing the paint layer underneath it pulled everything off, exposing the toy surface underneath. I'm actually pretty happy with the final look but I'll have to give the salt technique another try on something else.
The edges were sponged with a maroon paint to give them an exposed primer coat look. Dots of silver were carefully painted onto the edges to represent exposed metal. This is the same method I used on the Bandai AT-ST kit, and I'm pretty comfortable with this now.
The rear of the canopy was way too toy like, so I filled the hole where the hinge moved and coated that part with primer. This was yet another time I used the masking tape. Then texture paint was brushed on this part to give it a different surface. The texture point looked too much like muddy ground, so I started scraping the bits of texture off. That's when I noticed the exposed spots looked a lot like my failed salt technique. I scraped the most of the raised spots off and darkened the spots with dark grey. Then I dabbed on some different colors of paint and picked out the spots again with dark paints and called it done. The base is a large washer with a small chess pawn glued to it. The pawn was cut down to the right height, textured the base and was done.
I hope this mini how-to helps out. I certainly learned a lot from this project. I've got another project to show soon but I think this post is long enough. Let me know what you think.